Decorative Screen Panel Metal Sheet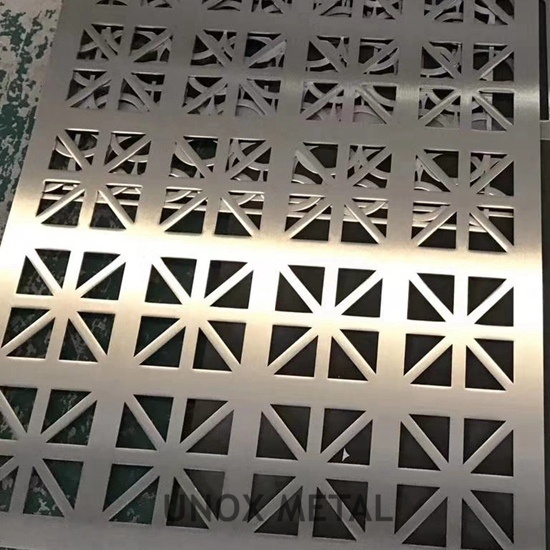 Unox Metal Perforated Sheet Metal Engraved Screen Panel For Architectural Decoration are moslty made of Aluminium or Stainless Steel Sheet Metal Materials According to Drawing and Design With Laser Cut and Performated Process. Aluminum Solid Panels Aluminum Patio & Porch Screens Which are wildely Used in Interior Decorative Screen Panel Wall Art Products and Exterior Architectural Facade Cladding Metal Panels Decoration. They are Also Ideal Architectural Decorative Facade Cladding Metal Panels Materials with the Combination of Function and Aesthetics.
Details of Decorative Metal Screen Partition | ARCHITECTURAL GRILLE | Decorative Stainless Steel Room Dividers & Screen
1.Materials: Stainless Steel / Copper Plate / Aluminum Plate / Other Metal (Mixed With Wood / Glass / Stone)
2.Surface Finish: Mirror ,Hairline, Satin Brushed, Etching, Sandblast or Customized.
3.Color Making: PVD Coating / Power Coating / Copper Plating/ Nano Paint Coating
4.Color Option: Ti-Gold, Rose-Gold, Champagne Gold, Black, Blue, Coffee, Copper, Bronze Etc.
5.Specification: THICKNESS 1.0 ~ 20.0 mm WIDTH 800~ 2000mm LENGTH 1000-6000mm or Customized.
Perforating process, reducing the weight of metal sheet while moslty keeping its strength, would be designed in various patterns and finishes. Furthermore, there are various materials available for cost consideration. We understand that the exterior walls decoration needs to be creative and sustainable. Choosing proper perforated metal to meet with design and requirements; Finished Perforated Metal Facade Panel is malleable, attractive, dynamic ,enduring with following features.
1.Good surface & various colors option.
2. Easy for installation and adjustable and disassembled.
3. Economic and environmental sustainability.
4. A complex and fancy pattern design.
5. Shearing to custom sizes is available.
6. Wide range of material,textures, finishes and colors.
For more Featured Products of Aluminum Screen,Aluminum Facade,Aluminum Facade Panel,Wall Cladding,Aluminum Wall Cladding, Window Screen,Decorative Screen,Stianless Steel Screen, please feel free to contact Unox Metal.