Hammered Stainless Steel Sheet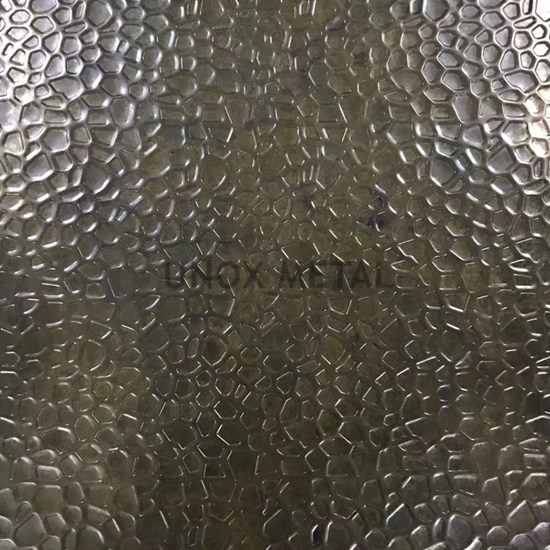 Embossed stainless sheet is produced by convex mold to roll the design pattern into the stainless steel surface. After embossing process finish,the stainless steel surface showing a depth of designed pattern;While Embossed metals stainless steel sheet is popular in architect decoration ,elevator industry,stainless steel cabinet table top and resident stainless steel door fabrication etc.Color stainless steel embossed sheets get color coated from PVD process or copper color making. The color coating makes the stainless steel surface even more bright and extremely resistant for unox metal output color coated stainless steel embossed sheets.

Decorative Sheet Product Name : Embossed Stainless Steel Plate
1)Grade: 304 316L 430 201 ETC
2) Thickness: 0.5mm-3mm/4mm/5mm
3) Width: 6mm-1250mm/1300mm/1500mm
4) Length: 2440mm 3050mm 3000mm Coil / CTL Customized Sizes
5) Surface Finish: Hand Made Hairline and Embossed Etching and More
6)Colors: Ti-Gold, Rose-Gold, Champagne Gold, Black, Blue, Coffee, Copper, Bronze Etc.
7) Package: Standard Seaworthy Package for Export or Upon Your Request.
Features
1.Selected Proper Origin High Quality Base Plate as Raw Materials.
2.Professional Copper Platting Techin Ensure Surface Finish and Durance.
3.18 Years' Experiences and Detail Caring and Quality Control System
4. Sample According Special Color and Fully Project Supporting.
5. Fast and Due Time Delivery
Application
Stainless Steel Coils-embossed stainless steel sheet and coil widely used in white good industry production, Industrial tanks, General Application Medical Instruments, Tableware, Kitchen utensil, kitchen ware, architectural purpose, Milk & Food processing facilities, Hospital Equipment, Bath-tub, Reflector, Mirror, Interior-Exterior decoration for building, Architectural purposes, escalators, kitchen ware etc.

UNOX METAL Service Center Keeps The Above Stainless Steel Stock-300 Series – SS 304 . SS 304L . SS316L ,420 Stainless Steel Sheets Come in Various Finishes and Used in Different Applications . Some of commonly used SS finishes are :-Stainless Steel Hairline Finish , Mirror Finish , NO 1 , NO2 D , NO 2B , NO3 , NO4 , NO 7 , NO 8 Stainless Steel Sheet / Plate / Coil Supplier To UAE , Qatar ,India , Saudi Arabia GCC.