Embossed Stainless Steel Sheet and Coil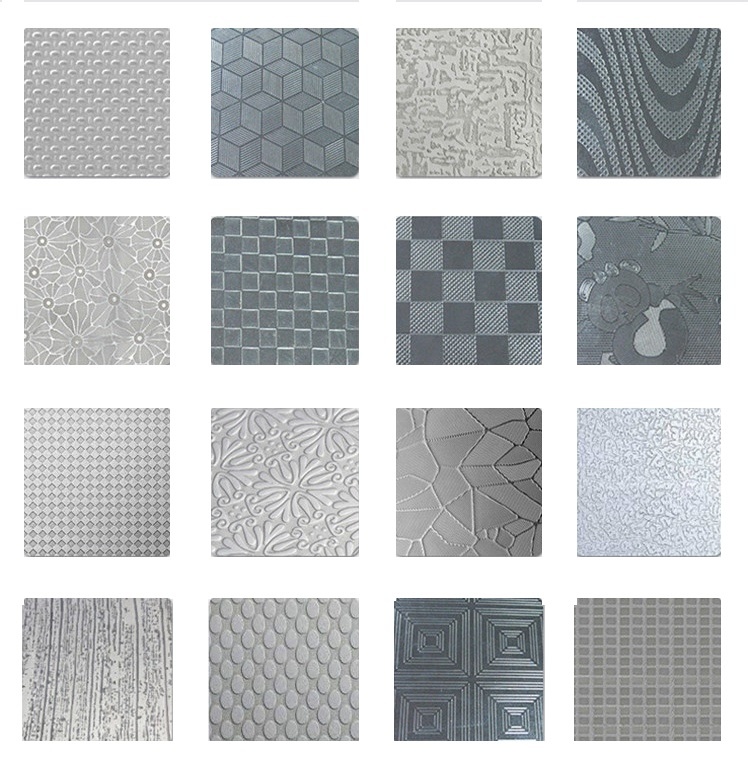 Texture Embossed stainless sheet is produced by convex mold to roll the design pattern into the stainless steel surface. After embossing process finish,the stainless steel surface showing a depth of designed pattern;While Embossed metals stainless steel sheet is popular in architect decoration ,elevator industry,stainless steel cabinet table top and resident stainless steel door fabrication etc.Color stainless steel embossed sheets get color coated from PVD process or copper color making. The color coating makes the stainless steel surface even more bright and extremely resistant.Color coated stainless steel embossed sheets.
Decorative Stainless Steel-Embossed Brainless Steel Sheets/Coil
Specifications
1) Standard: ASTM,AISI,GB,JIS,DIN,EN
2) Thickness: 0.4mm-1.5mm
3) Width: 500mm-1250mm
4) Length: Coils or acc to your request
5) Surface Finish: Embossed Patterns including linen,square,leather and more upon request
6) Package: Standard Seaworthy Package for export or upon your request.
Features
1. Various Pattern available and customized pattern on your request .
2. Available in coils and sheet in required sizes.
3. Suitable for decoration and kitchenware production.
Application
Stainless Steel Coils-embossed stainless steel sheet and coil widely used in white good industry production, Industrial tanks, General Application Medical Instruments, Tableware, Kitchen utensil, kitchen ware, architectural purpose, Milk & Food processing facilities, Hospital Equipment, Bath-tub, Reflector, Mirror, Interior-Exterior decoration for building, Architectural purposes, escalators, kitchen ware etc.

UNOX METAL Service Center Keeps The Above Stainless Steel Stock-300 Series – SS 304 . SS 304L . SS316L ,420 Stainless Steel Sheets Come in Various Finishes and Used in Different Applications . Some of commonly used SS finishes are :-Stainless Steel Hairline Finish , Mirror Finish , NO 1 , NO2 D , NO 2B , NO3 , NO4 , NO 7 , NO 8 Stainless Steel Sheet / Plate / Coil Supplier To UAE , Qatar ,India , Saudi Arabia GCC.