Architectural Metal Screens Outdoor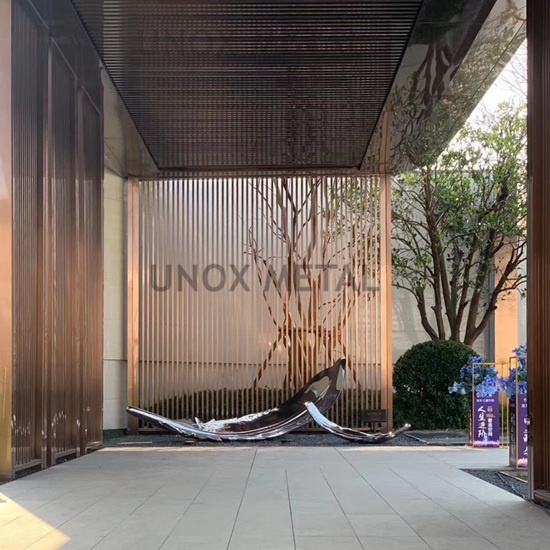 Details of Stainless Steel Partition Unox Metal Wall Panel Decorative Screen Panels.
ARCHITECTURAL GRILLE | Decorative Stainless Steel Room Dividers & Screen.
1.Materials: Stainless Steel / Copper Plate / Aluminum Plate / Other Metal (Mixed With Wood / Glass / Stone)
2.Surface Finish: Mirror ,Hairline, Satin Brushed, Etching, Sandblast or Customized.
3.Color Making: PVD Coating / Power Coating / Copper Plating/ Nano Paint Coating
4.Color Option: Ti-Gold, Rose-Gold, Champagne Gold, Black, Blue, Coffee, Copper, Bronze Etc.
5.Specification: THICKNESS 1.0 ~ 20.0 mm WIDTH 800~ 2000mm LENGTH 1000-6000mm or Customized.
Type of The Unox Decoration Metal Screen:
Laser Cut Metal Screen /Metal Engrave 3D Decoration Screen Wall Panel / Custom Stainless Steel Screen Panels.
Application:
Architectural Metal Decoration , Hotel Lobby Living Room Metal Decoration, Museum Decoration,Opera Ceiling Wall Panel, Restaurant Metal Decoration, Villa Interior Design Decoration, Shopping Mill Commercial Building Metal Decoration Project . Indoor and Outdoor Public Space Backdrop, Elevator Cabin Decoration,Metal Screen for Deck, Porch, and Patio Railings and Stainless Steel Handrail, Living Room, Background Wall, Ceiling ETC .
Our Service:
1. Laser Cutting, Metal Engrave, 3D Metal Cutting ,Art Metal Fabrication.
2. Our range: Stainless Steel Decoration , Aluminum Screen , Copper Metal Decoration
3. Type: Decorative Stainless Steel Sheet, Laser Cut Product, Decoration Screen Panel, Metal Fabrication
4. Packing: PVC Coated, Waterproof Packing in Wooden Boxes/ Pallet for Seaworthy Delivery.

5. Installation: Fulling Packing List and Installation Instruction, Frame and Serial Fitting Parts.

Welcome to send CAD and detaled architectural metal decoration products to Unox Metal,which is pioneer in stainless steel materials and metal fabrication,offering architectural interior and exterior design projects metal decoration products including stainless steel screen partition , stainless steel wine cabinet, door cover, stainless steel mirror frame and high class hotel stainless steel metal wall screen panel decoration sheet metal products , metal fabrication products, custom metal furniture, and a number of custom decors and finishes.